The English outfit the Guardian expresses a warning that the signs are there in the American Republican political moves with the economy, taxes and the Federal Reserve and stock market and other things that a repeat of economic crisis that landed in President Obama could be brewing…
Borrowing has moved out a limb , so has debt….
Now countries do NOT have to have balanced budgets…
But they sure DO have to have the reserves if people show up at the bank and want to cash their checks…
The Trump tax cuts are another spur to those investors who would wish away the prospect of a recession or, worse, a financial crash.
Donald Trump's proposals are expected to be signed into law sometime over the Christmas break or early in the new year and look like injecting $1.5tn into the US economy.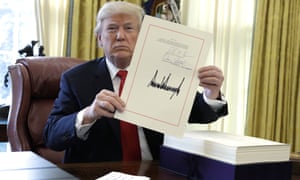 Wealthy Americans are expected to gain the biggest benefit and will most probably invest it in financial markets. They don't need the money to finance their lifestyles, so why not speculate with it?
Already the Dow Jones index, the main securities market in the US, is soaring to new highs. In just five and a half years it has doubled in value to almost 25,000 points.
Third on the list of catalysts is the eurozone, which has woken up after years of intermittent crisis following the 2008 crash.
With the US accelerating on the back of the Trump tax bill and China re-energising its manufacturing sector, many European companies are in demand, particularly if they have machine tools, cars, pharmaceuticals or marketing services to offer. Even Brexit is seen by investors as a parochial event that can do little harm to global growth.
All these forces delay a recession that should be around the corner after nine or 10 years of increased borrowing. The usual course of events would dictate that a shake-out of debt-funded companies drags on growth and even sends the economy into reverse.
The late arrival of the eurozone to the growth party, the Trump tax cuts and the modest increases in interest rates (carried out by the Federal Reserve and signalled by the European Central Bank), have all delayed the day the shake-out occurs. And that means the recession, when it comes, will be deeper and more harmful….