With ALL the investigations going on about how the Russians helped Donald Trump beat Hillary Clinton?
She is 'angry'…..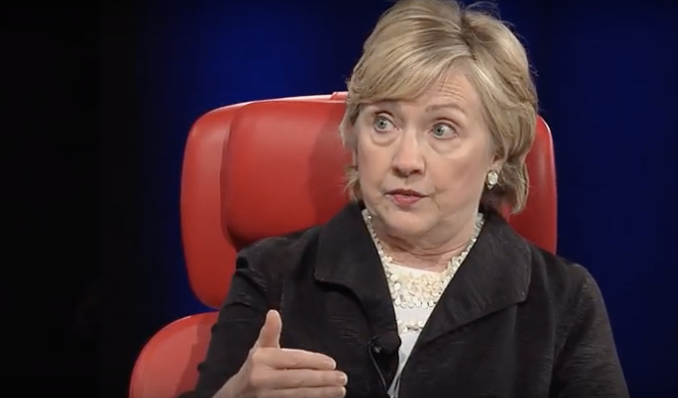 With no worry about Trump sending  Attorney Gen. Sessions after her?
She is a woman on a mission to get HER view on how she won the vote but lost the election….
And Trump has NOT turned the other cheek ….
Hillary Clinton blamed her 2016 presidential election loss on a variety of sources — including Russian hackers, the Democratic Party, former FBI Director James Comey, the media, social media and misogyny — in a lengthy interview Wednesday.
Clinton struck a far more defiant tone in the appearance at Recode's Code Conference than she had during her previous post-election accounts. While Clinton briefly apologized for using a private email server for official emails while she was secretary of State, much of the interview saw Clinton listing the external factors she felt led to her loss.
"I was the victim of a very broad assumption I was going to win," Clinton said.
"I think a lot of people said, 'We'll get to this after the election, we aren't going to worry about it right now,' but that turned out to be a terrible mistake."
Clinton started the interview defending her decision to use the email server, arguing that it was the largest issue that she had control over during the election.
Clinton said she believes that most informed people viewed the scandal as "the biggest nothing-burger ever," even as she said the New York Times "covered it like it was Pearl Harbor."
"Doing something others had done before was no longer acceptable in the new environment from which we found ourselves. There was no law against it, no rule against it, nothing of that sort," she said….
Note….
……Clinton criticized the Democratic National Committee's data operation earlier Wednesday during a Q&A session at Recode's Code Conference in Rancho Palos Verdes, Calif., saying that she "inherited nothing" from the party after she became its presidential nominee.
"I mean, it was bankrupt. It was on the verge of insolvency. Its data was mediocre to poor, nonexistent, wrong," she said. "I had to inject money into it."
Donald Trump was quick to give his view of things….
President Trump blasted Hillary Clinton on Wednesday, saying that his former Democratic challenger "refuses to say she was a terrible candidate."
"Crooked Hillary Clinton now blames everybody but herself, refuses to say she was a terrible candidate. Hits Facebook and even Dems and DNC," Trump wrote on Twitter…..
Ah, although she was running against Trump and the Russians?
She HAS to REALLY share blame on a good party of her loss…
image…BuzzFeed.Com