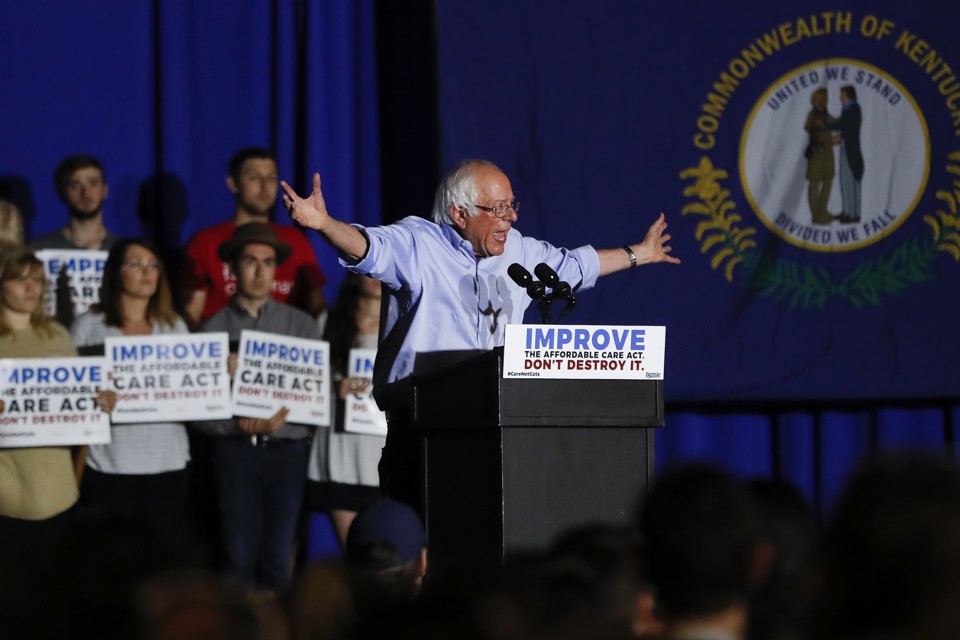 Gotta give it to the guy…..
He's putting shoe leather on efforts to drum up support AGAINST the Republican's effort to get rid of the healthcare law ….
And he's doing it among Trump and Republican support area's….
Sanders seems to have moved on something his adopted Democrats need to jump on a bit faster….For 2018 /2020 it is NOT just about Trump….It's working on the hearts and minds of those who fell left behimd America's changing demographics….
When Bernie Sanders spoke at a rally on Sunday afternoon to stop the Republican effort to dismantle Obamacare, he didn't wait long to bring up President Trump.
"I am more than aware that Donald Trump did very well in the state of West Virginia, I got that," the Vermont senator told a crowd inside a hotel ballroom. "Donald Trump told the people that he was going to be a champion of the working class," he said. "I'm sorry to have to tell you this, but I suspect most of you already know it, Donald Trump was not telling you the truth."
If Democrats want to win back the White House, Congress, and hundreds of seats lost in state legislatures, the party may need to convince voters who pulled the lever for Trump of this fundamental argument: The president is not their champion, and never will be. Sanders, who posed a serious challenge to Hillary Clinton in the 2016 Democratic presidential primary while running as a self-described "democratic socialist," is doing his best to persuade them.
West Virginia was the senator's first stop on a day-long, two-state trip to campaign against the Senate Republican health-care bill. Next up was Covington, Kentucky, a city near Cincinnati, Ohio, where Sanders called the health-care bill House Republicans passed in May "the most anti-working class legislation that I have ever seen," adding that "the Senate bill, in many respects, is even worse."….
Share on Facebook