Quietly away from the Media the two top military guys in uniform for America and Russia have met face to face, something that has NOT happened in a long time….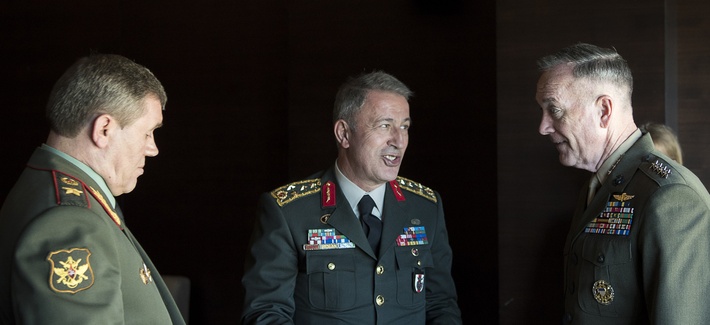 Over three years had passed without direct senior-level contact between the world's preeminent nuclear powers.
The military leaders of the world's most lethal nuclear-tipped states met in February, the first such meeting in three years. The two generals got together again earlier this month, once more in relative obscurity that belied their meetings' tremendous importance.
Long projected, but politically and geographically difficult to finalize, the Feb. 16 meeting was a personal first for Gen. Joseph Dunford and Gen. Valery Gerasimov, respectively the U.S. Chairman of the Joint Chiefs of Staff and Russia's chief of the General Staff. They met in Baku, Azerbaijan, and frankly but cordially discussed the overall diminished state of U.S. and Russian military relations, the need for better communications between key leaders, and ways to deconflict military activities that could inadvertently put both countries at risk.
Then, — remarkably, considering the overall difficult state of U.S. and Russian relations — Dunford and Gerasimov met again on March 7. This time, their two days of talks were hosted by the Chief of the Turkish General Staff, Gen. Hulusi Akar, in scenic Antalya. Serious discussions ensued in a conducive environment where the three senior generals also shared meals together. Their positions reflected the varied perspectives and hence different strategies their states pursued with a contentious array of regional allies, proxies, and adversaries that placed their forces in ever-closer, increasingly dangerous proximity in northern Syria, near the cities of Manbij and al Bab. This array includes Russians backing the Syrian government, the U.S. backing the Syrian Democratic Force comprising Arabs and Kurds, and Turks supporting Assad regime opposition while combating Kurdish fighters. All recognize the need to destroy ISIS and capture its de facto capital in Raqqa….
image…Petty Officer 2nd Class Dominique A. Pineiro/U.S. Navy