An EXCELLENT piece of Media about Russian President Vladimir Putin and his history, actions and the why he elistited action against Hiullary Clinton becoming the 45th American President….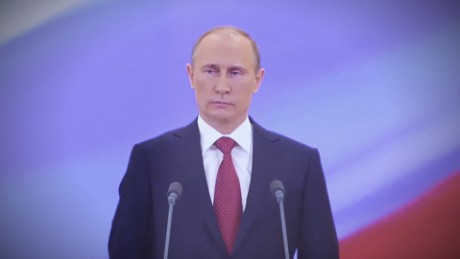 FAREED ZAKARIA, CNN ANCHOR (voice-over): Winston Churchill famously said of Russia, it is a riddle, wrapped in a mystery, inside an enigma. Prime Minister Churchill, meet Vladimir Putin.
DONALD TRUMP, U.S. PRESIDENT: He is really very much of a leader. He's been a leader far more than our president has been a leader.
HILLARY CLINTON, (D) FORMER PRESIDENTIAL CANDIDATE: He was a KGB agent. By definition, he doesn't have a soul.
SEN. JOHN MCCAIN, (R) ARIZONA: Vladimir Putin is a thug and a murderer and a killer.
BILL BROWDER, EXECUTIVE OFFICER OF HERMITAGE CAPITAL MANAGEMENT: He's the richest man in the world. Hundreds of billions of dollars of wealth.
ZAKARIA (voice-over): What does he want from Donald Trump?
JULIA IOFFE, JOURNALIST WHO WITNESSED INAUGRAL CRACKDOWN: Putin is going to eat him like a sandwich.
H. CLINTON: He'd rather have a puppet as president.
TRUMP: You're a puppet.
ZAKARIA (voice-over): Just how powerful is he?
ROBERT GATES, FORMER SECRETARY OF DEFENSE: Putin has an untrammeled authority.
UNIDENTIFIED MALE: How did you check his power?
ZAKARIA (voice-over): So powerful he rigged the American election?
DAVID REMNICK, EDITOR, THE NEW YORK: Of course Putin wanted Hillary Clinton to lose. He despised Hillary Clinton.
DMITRY PESKOV, VLADIMIR PUTIN'S DEPUTY: Whom would you like better?
UNIDENTIFIED MALE: Of the world.
ZAKARIA (voice-over): While Russia celebrates, Americans ask, what does he want? And is he really the most powerful man in the world?….
….
Here's the Special Report link….
[voice-over]: He has created what he calls a vertical of power, unlike any we have seen in any great nations. As the Russian chess grandmaster, Kasparov, noted, himself a harsh critic of Putin, the entire structure of Russian political authority rests on one man. When the Czar died after all, you knew the process by which his successor, his son would be elevated. When the General Secretary of the Soviet Communist Party died, the standing committee and the politburo would select his successor. But when Putin dies, I almost said if, what will happen? No one knows….
…
Culturally, it has often thought of itself as the third Rome, preserving Christianity even as Roman Byzantium fell to the barbarians.
Putin understands Russia, but he also understands the world. He's not foolish enough to make a frontal assault on America or Europe. He knows how to use power asymmetrically with cyber tools and disinformation. He understands the vulnerabilities of free societies, the internal divisions and discord, and the gaping openness. He understands the fragility of institutions like the European Union and NATO and ideas like integration and diversity.
(on camera): In other words, Vladimir Putin understands us very well. The question is, do we — does Donald Trump really understand him?
image…CNN screenshot
Share on Facebook