Donald Trump argues that he can STILL make and take money while being on the job as President….
The question IS?
Can he even keep money he makes form foreign countries or their supporters, who can and will seek influence from President Trump or his Admin or even his political party….
Oh…the Best of  this?
Trump has Dept. of Justice lawyers getting paid to defend him making money out of this deal….
….The British version of "The Apprentice" kicked off its 13th season on Oct. 4, a show that has been a ratings hit for the British Broadcasting Corporation. It is also part of a high-stakes constitutional challenge facing President Donald Trump.
Citizens for Responsibility and Ethics in Washington, a watchdog group known as CREW, has sued Trump claiming he is violating the Constitution's Foreign Emoluments Clause, a rarely invoked provision barring federal office-holders from taking gifts and payments from other governments. Several other emoluments lawsuits have been filed challenging the 45th president.
The emoluments challenges get their first legal test Wednesday in Manhattan, where a federal judge will consider the government's motion to dismiss CREW's case. For Trump, the case could eventually force him to divest holdings or put them in a blind trust, as well as reveal his tax returns. No court has ever considered whether the Constitution requires a president to surrender his business holdings — or the presidency.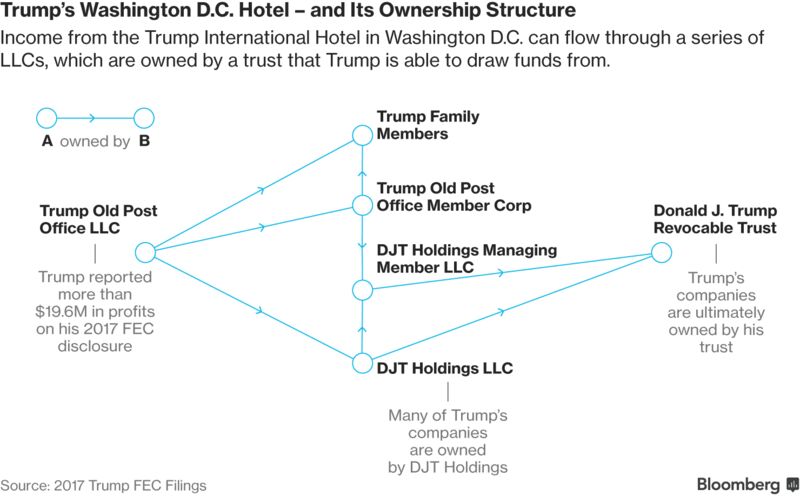 CREW maintains that Trump is violating the clause by accepting payments from foreign governments, whether they are staying at his hotels, renting space in his buildings or licensing a version of "The Apprentice."
"We want the judge to look at the finances of the Trump Organization and then tell the president what he can keep and what he can't without violating the Constitution," said Richard Painter, the group's vice chairman and the former ethics czar for President George W. Bush.
A Trump Organization spokeswoman didn't return phone and email messages seeking comment on CREW's claim about revenues from the show. The Justice Department, which is representing Trump, "looks forward to arguing the motion to dismiss," a spokeswoman said.
Trump argues that CREW and the other plaintiffs in this case lack the legal standing to sue — that they can't claim the kind of injury from his alleged violation that would get them past the courthouse door. He also maintains that the Foreign Emoluments Clause was never intended to apply to commercial transactions such as restaurant bills, hotel charges, office rent or golf course fees.
"Plaintiffs' broad-brush claims effectively assert that the Constitution disqualifies the President from serving as President while maintaining ownership interests in his commercial businesses," the government argued in its brief……
Share on Facebook