The one thing that Donald Trump HAS been able get done is to cut down on the flow of people from outside to this country….
That goes for illegal immigrants, refugees and tourists…..
Trump has ICE cops out searching for undocumented kids, parents and relatives….He has pushed the people who decide who stays to spare no effort to rid the country of these people….
Several Federal judges and Appeal courts have tried to slow the efforts down, but with Neil Gorsuch on the bench with the Supreme's?….Trump is on a roll….
Against all of this a new ABC poll shows that while Trump is making HIS supporters happy?
Americans's on the whole are NOT behind his efforts….
A vast 86 percent of Americans support a right to residency for undocumented immigrants who arrived in the United States as children, with support crossing the political spectrum. Two-thirds back a deal to enact such legislation in tandem with higher funding for border control.
Possibly in light of President Donald Trump's decision to phase out the Deferred Action for Childhood Arrivals program, disapproval of his handling of immigration overall reaches 62 percent in this ABC News/Washington Post poll. Just 35 percent approve.
Additional hurdles for Trump are his demand for a wall on the U.S. border with Mexico — again 62 percent oppose it — and substantial concerns about his immigration enforcement policies.
Americans were asked whether they support "a program that allows undocumented immigrants to stay in the United States if they arrived here as a child, completed high school or military service and have not been convicted of a serious crime," all elements of DACA, established by Barack Obama by executive order in 2012. Support spans demographic groups, including three-quarters of Republicans and conservatives, 86 and 87 percent of independents and moderates, and 97 and 96 percent of Democrats and liberals.
Support reaches 94 percent among Hispanics, 93 percent among blacks and 84 percent among whites. Strong support, 87 percent among Hispanics and 85 percent among blacks, declines among whites to 61 percent.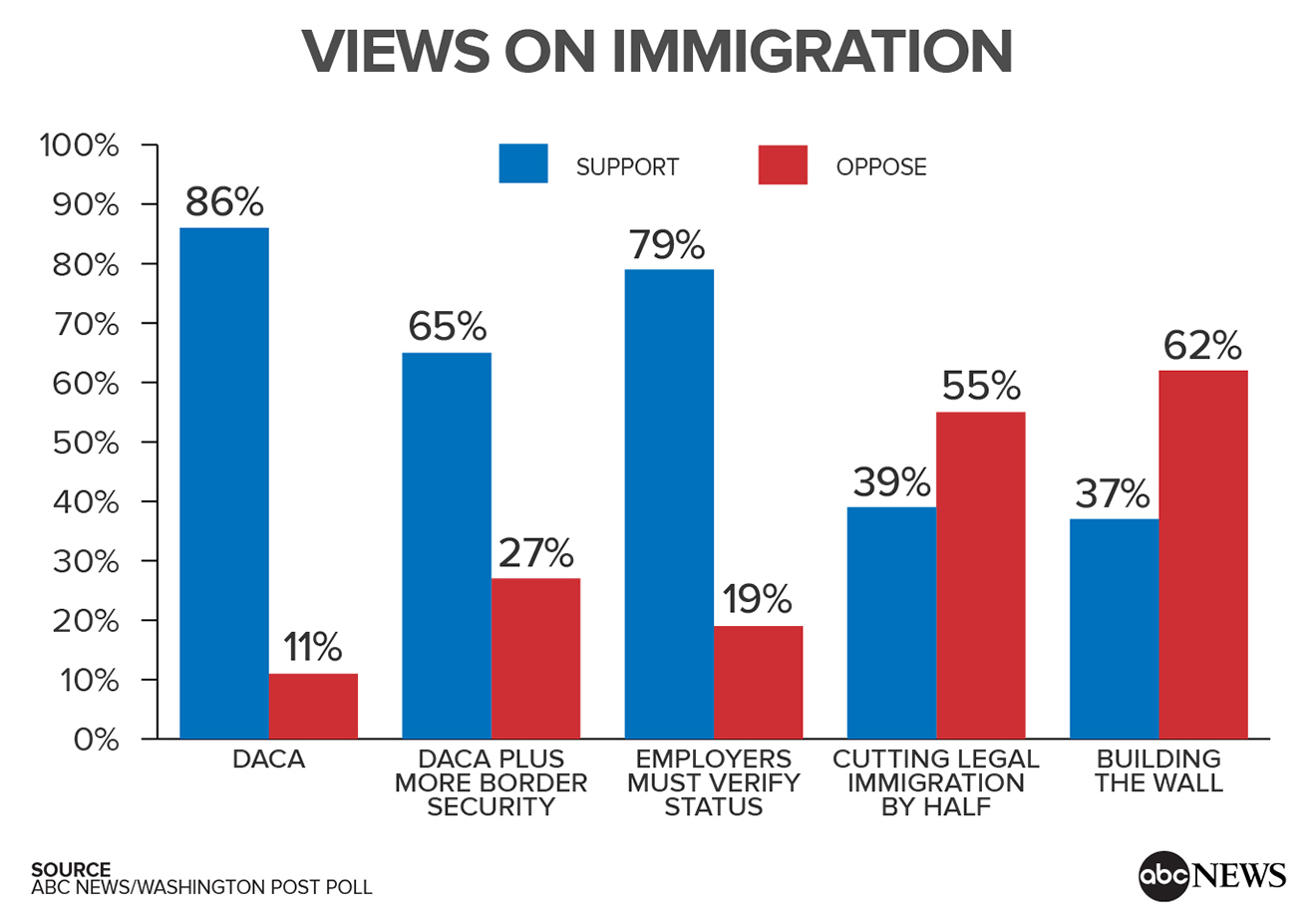 Trump early this month said he would rescind DACA, giving Congress a six-month window to act before nearly 800,000 undocumented immigrants lose protection from deportation. He later reached a tentative agreement with top congressional Democrats for DACA legislation accompanied by upgraded border security.
As noted, 65 percent support that potential compromise — a bipartisan result, with 76 percent support among Republicans, 66 percent among independents and 59 percent among Democrats. Similarly, 71 percent of moderates, 66 percent of conservatives and 56 percent of liberals back the deal. Just 27 percent of Americans in this poll, produced for ABC News by Langer Research Associates, are opposed…..
Note…
Please read the numbers for REPUBLICAN support for a Dreamers compromise…Not the numbers AGAINST trump's wall proposal….