It wasn't ALL Hillary Clinton's fault she lost ….
No it wasn't….
If you read the personal stories about those who voted for Trump enough to get him over in those Rust Belts states and Florida ?
Someone else's name comes up as much or more that Hillary….
Barack Obama
In countless comments?
People who voted FOR Obama TWICE ?
Moved to Donald Trump…..
Why?
Because President Obama NEVER REALLY worked at building a support system under his actions….
Campaigning for change and going at that change was fine….
But NOT Nearly enough….
Making promises and NOT thinking far enough to build the underpinnings  has left American's naked to the efforts of Trump and the Republicanbs efforts to erase gains done by Obama….
And this should be NO surprise….
The warning signs have been evident since 2010….
The idea that Obama left his legacy to chance JUST with Hillary Clinton's win was just as bad as Hillary Clinton's lack of true campaign moxie…
There IS a LOT of blame to go around….
And again?
It should NOT be about just Hillary Clinton vs Bernie Sanders….
As we now know, that grand vision for a postcampaign movement never came to fruition. Instead of mobilizing his unprecedented grassroots machine to pressure obstructionist lawmakers, support state and local candidates who shared his vision, and counter the Tea Party, Obama mothballed his campaign operation, bottling it up inside the Democratic National Committee. It was the seminal mistake of his presidency—one that set the tone for the next eight years of dashed hopes, and helped pave the way for Donald Trump to harness the pent-up demand for change Obama had unleashed.
"We lost this election eight years ago," concludes Michael Slaby, the campaign's chief technology officer. "Our party became a national movement focused on general elections, and we lost touch with nonurban, noncoastal communities. There is a straight line between our failure to address the culture and systemic failures of Washington and this election result."
The question of why—why the president and his team failed to activate the most powerful political weapon in their arsenal—has long been one of the great mysteries of the Obama era. Now, thanks to previously unpublished emails and memos obtained by the New Republic—some from the John Podesta archive released by WikiLeaks, and others made available by Obama insiders—it's possible for the first time to see the full contours of why Movement 2.0 failed, and what could have been.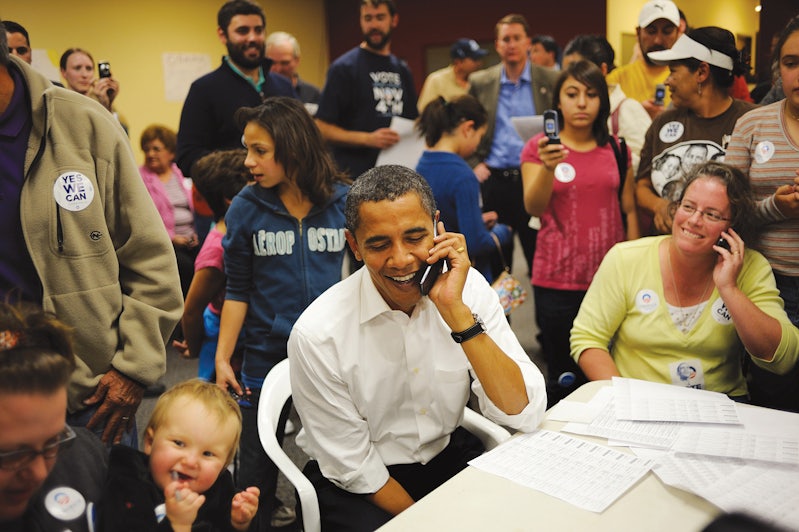 ---
In the midst of the 2008 campaign, the idea for Movement 2.0 seemed both obvious and inevitable. Obama himself recognized that he was sitting atop an organizing juggernaut. Speaking to hundreds of his core staffers in June, Obama praised them for building a campaign machine that had just taken down Hillary Clinton. "Collectively, all of you—most of whom are I'm not even sure of drinking age—you've created the best political organization in America, and probably the best political organization that we've seen in the last 30 to 40 years," Obama told them. "That's a pretty big deal."…
Note….
One would hope that Barack Obama could pay for mistake by doing over the next four years what he failed to do over the LAST eight years….ORGANIZE the base of the party….
Share on Facebook