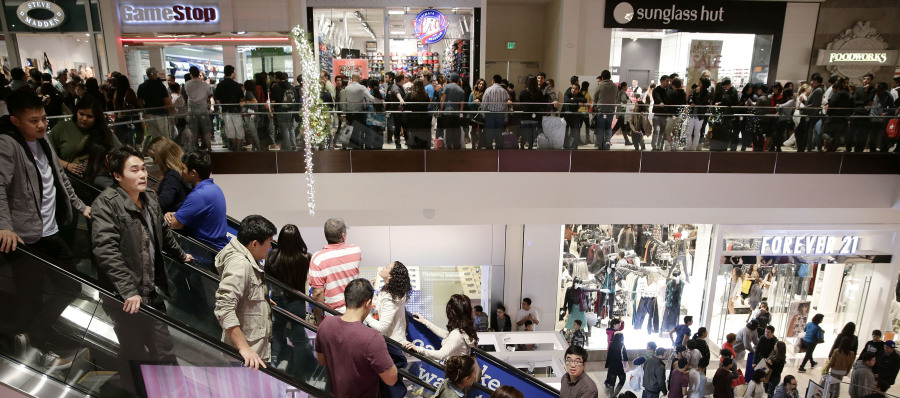 photo…ap/hiffingtonpost
Good sales, Fights and Cold Weather……
….from the Huffingtonpost……
The holiday shopping season kicked off much earlier this year, as several retailers opened their stores on Thanksgiving Day. The sales continued through Friday. The Associated Press looks at shopping apps to bring along to make sure you get the best deals.
The day after Thanksgiving, called Black Friday, is typically the biggest shopping day of the year. For a decade, it had been considered the official start of the holiday buying season. But in the past few years, retailers have pushed opening times into Thanksgiving night. They've also pushed up discounting that used to be reserved for Black Friday into early November, which has led retail experts to question whether the Thanksgiving openings will steal some of Black Friday's thunder.
The holiday openings came despite threatened protests from workers' rights groups, which are opposed to employees working on the holiday instead of spending the day with family.
Overall, the National Retail Federation expects retail sales to be up 4 percent to $602 billion during the last two months of the year. That's higher than last year's 3.5 percent growth, but below the 6 percent pace seen before the recession.
Analysts expect sales to be generated at the expense of profits, as retailers will likely have to do more discounting to get people into stores.
Here's how the start of the holiday shopping season is playing out. All times are ET.
___
— Friday, 7:45 a.m.: How to make sure you're getting the best deals? AP's Joseph Pisani writes about five shopping apps to bring with you.
Many retailers, for instance, will match deals you find elsewhere. These apps can help you find better prices to show the cashier. Some let you search for coupons, while others tell you whether you're better off buying online instead. And one keeps track of all those promotional fliers that do little good if you forget them at home.
Unfortunately, If you prefer to shop at mom and pop stores, you won't find any deals here. But if you don't mind big retailers, these apps offer a hefty selection of deals from them. These are all free, easy to use and beautifully designed:
— RetailMeNot (available for Android, iPhone): This app lets you search for coupons from your favorite stores, so you can instantly save 10 percent, 20 percent or even more on a single item or your entire shopping cart. You can scroll through the list of hot deals on the home page or search for a specific store.
— Amazon and RedLaser (available for Android, iPhone, Windows): These two apps let you check prices online, for those retailers that will match cheaper prices you find in hopes you'll buy on the spot.
— Cartwheel by Target (available for Android, iPhone): Target's app has coupons for everything from electronics to toys to cereal. Once you find a coupon you want to use, you tap the add button. Then present the cashier with a single barcode that has collected all the coupons you selected.
— Flipp (available for iPhone): This app helps you find and track newspaper circulars. You can leave the paper behind, as Flipp has digital versions with the coupons in them.
Read more at:
http://bigstory.ap.org/article/review-5-shopping-apps-get-you-best-prices
— Joseph Pisani, AP Business Writer, New York
___
— Friday, 7:30 a.m.: Exhaustion for shopper near Atlanta
Curtis Akins, 51, drove about three hours from Tifton, Ga., to watch the annual Macy's tree-lighting ceremony at Lenox Square mall in Atlanta on Thanksgiving. The store opened for shoppers at 8 p.m. on Thanksgiving, and the rest of the mall opened at midnight.
By 5 a.m. Friday, he was sitting on a bench — looking slightly exhausted — inside another mall as his wife shopped for deals. The North Point Mall in Atlanta's northern suburbs had the feel of an airport terminal in the pre-dawn hours, with some store gates open, others closed and many shoppers slowly shuffling along, bleary-eyed.
Akins said he wasn't keen on Black Friday starting earlier and earlier.
"I think it's going to end because it's taking away from the traditional Thanksgiving," he said.
— Jeff Martin, Associated Press, Alpharetta, Ga.
___
— Friday, 7:10 a.m.: Target Corp. has announced a "very successful start" to the Black Friday shopping weekend.
The retailer opened at 8 p.m. on Thanksgiving, an hour earlier than a year ago. At Target.com, where nearly all the deals were available on Thanksgiving, traffic and sales were among the highest the Minneapolis-based retailer has seen in a single day.
In the early morning hours after the deals first became available, Target says its website saw two times more orders compared with a year ago at that time.
Hot items include Apple Inc.'s iPad Air, several large-screen TVs and Nintendo's 3DS XL, which all sold out by mid-morning Thursday. In stores, crowds began gathering hours before the 8 p.m. opening. Target said that lines stretched several blocks.
Target said the stores' electronics and toys sections were popular destinations. In many locations, the Element 52-inch TV sold out in minutes.
— Anne D'Innocenzio, AP Retail Writer, New York
___
— Friday, 7 a.m.: Colder temperatures aren't deterring shoppers in upstate New York, as Black Friday becomes a family affair.
"We like to shop this time of night. We get in and out. We're having a ball," said Rosanne Scrom as she left the Target store in Clifton Park, N.Y., at 5 a.m. with her sister and their daughters. It was about 20 degrees then.
Scrom said they spent about 20 minutes in the store buying "whatever we see on sale that people will like."
"We're spending more this year," said her daughter, Tiffani, 21.
"We're getting more bargains," her mother added.
The store wasn't jammed, and the Scroms said they had more time to mull purchases and not worry about people snatching items from their carts, something that has happened to Rosanne Scrom "lots of times" during previous Black Friday shopping excursions.
— Chris Carola, Associated Press, Clifton Park, N.Y.
___
— Friday, 6:50 a.m.: Two hurt as police respond to shoplifting call
Authorities say a police officer answering a call of alleged shoplifting at a Chicago area department store shot the driver of a car that was dragging a fellow officer.
The wounded driver of the car and the dragged officer were both taken for hospital treatment of non-life-threatening shoulder injuries, police say. Three people were arrested.
Mark Turvey, police chief in Romeoville, Ill., said police got a call shortly after 10 p.m. Thursday of two people allegedly shoplifting clothes from a Kohl's store in the southwest Chicago suburb.
"As officers approached the front door, one of the two subjects ran out the door into the parking lot" and the officer chased him to a waiting car, Turvey said.
"The officer was struggling with the subject as he got into the car and then the car started to move as the officer was partially inside the car. The officer was dragged quite some distance. He couldn't get out," Turvey said.
The police chief said a backup officer fired two or three shots toward the driver when he refused orders to stop, striking him once in the shoulder.
There were no reports of any injuries to shoppers hunting for deals ahead of Black Friday.
A store manager contacted early Friday said he had no further information and referred The Associated Press to a corporate spokeswoman, who didn't immediately return a message Friday.
Share on Facebook