The changes appear to have been in the works well before Yahoo's splashy $1.1 billion acquisition, announced earlier this month. Tumblr rolled out sponsored posts to its once ad-free site last year and had plans to increase advertising on the site even before the acquisition.
Tumblr had already introduced ads to the Radar and Spotlight sections of its site, where Tumblr highlights noteworthy content and accounts, and to the mobile version of its site. Starting this week, Tumblr is giving sponsored posts even more visibility, telling users they'll now see ads in their Dashboard, the main feed of posts users see when they log on to the site. (The mobile Dashboard already offered such ads.)
According to TechCrunch, users will see no more than four ads in their feed a day, and ads will be identified by a dollar-sign on the top right-hand corner.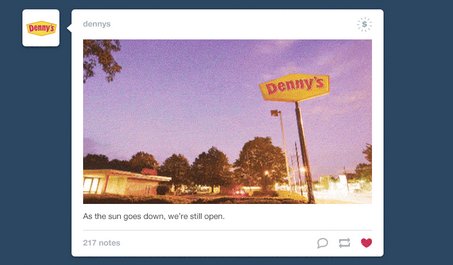 An ad from Denny's as it appears in the Tumblr Dashboard.
Tumblr promised in its announcement that the sponsored posts "will simply blend in with the posts from the blogs you follow," but users aren't so sure…..
Share on Facebook