Moody and off and on…..
But when Lebron James on HIS game…?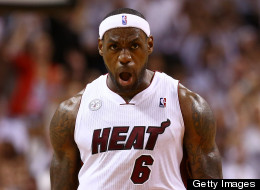 LeBron James #6 of the Miami Heat reacts after a basket in the third quarter against the Indiana Pacers during Game Five of the Eastern Conference Finals at AmericanAirlines Arena on May 30, 2013 in Miami, Florida.
There will be no win-or-else Game 6 in the Eastern Conference finals for the Miami Heat this season. LeBron James saw to that, and now the reigning champions are one victory from a third straight trip to the NBA Finals.
James finished with 30 points, eight rebounds and six assists, Udonis Haslem made his last eight shots on the way to a 16-point night, and the Heat used a dominant third quarter to turn things around and beat the Indiana Pacers 90-79 in Game 5 on Thursday.
Mario Chalmers scored 12 points and Dwyane Wade added 10 for the Heat, who lead the series 3-2 and will look to close it out at Indiana on Saturday night. The Heat ousted the Pacers in six games in a second-round matchup last season.
Paul George had 27 points and 11 rebounds for the Pacers, who got 22 points from Roy Hibbert and 17 from David West. The Pacers led by as many as seven at one point, but had no answer for the Heat in the third, getting outscored 30-13 in the period, including 21-6 in the final 7 minutes.
James and Haslem combined for 26 points in the third, and were simply too much.
Share on Facebook