I'm a Apple Dog….
But in the interest of fairness I'm posting up the Microsoft rollout ….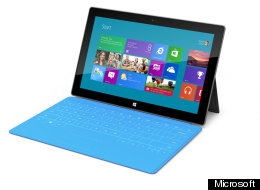 Microsoft took the wraps off its brand new tablet, called Surface, during what the company promised would be a "major" media event on Monday evening at Milk Studios in Hollywood, California.
"It embodies hardware and software working together," said Microsoft CEO Steve Ballmer, according to The Verge's live blog of the announcement. It is one of the few times in company history that Microsoft engineered both the hardware and the software of a device, with the Surface joining the Zune MP3 player, Kin smartphone, and Xbox 360 gaming console.
Microsoft showed off two Surface devices: one running Windows RT and built around an ARM processor, and one running Windows 8 Pro and built around an Intel processor. Windows RT is the "Metro-only" version of the upcoming Windows 8, while Windows 8 Pro features Metro as well as the more familiar desktop look of Windows, with a Start bar and homescreen icons.
Both of the models feature what is likely the hallmark aspect of the Windows Surface tablet: a built-in keyboard…..
Share on Facebook